Auto Injury Chiropractic at Chiropractic Fitness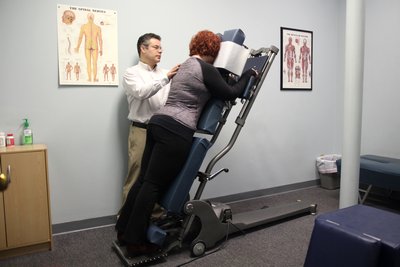 If you have been in a car accident, you might not have pain set in for some time. Though some feel immediate discomfort and know they need attention from a chiropractor, others aren't aware of what we do. Even a low-speed accident can cause trauma to your body. The emergency room might give you a clean bill of health. Though they check for issues such as broken bones, they don't look for spinal misalignments or damaged muscles, discs and nerves.
At Chiropractic Fitness, you can receive the comprehensive care you need to get better after you've been in a collision.
Our Extensive Training
Dr. Schulman has taken postgraduate courses on topics such as Triaging the Injured, Caring for the Trauma Patient, and Head Trauma and Brain Injury. He has trained with the Spine Research Institute of San Diego to help people in auto accidents.
If you've been injured during a motor vehicle accident, you can feel confident that you'll get the thorough attention and care you need from our team.
What Happens During an Accident?
When an impact happens, particularly if you're hit from behind, the forces travel through the car and into your body. If your head moves backward and forward at a fast rate, you'll end up with whiplash. Our bodies aren't meant to have these types of movements, which damage bone, discs, nerve and muscles.
The result can be a lifetime of pain, which is why it's essential you get checked by a chiropractor. It can take days for inflammation and discomfort to set in. A week later, you might have a stiff neck and pain. We can check you and provide the treatment you need so that you don't end up with problems in the future.
A Different Examination Experience
The examination you'll have with us is unlike anything you'd get in the hospital or at the medical doctor's office. Likely, your treatment there will only include pain medications that don't actually address the source of your problem. We assess your range of motion, look at your entire spine and take computerized nerve scans to locate areas of nerve irritation.
With our methods, we can detect problems that you might not feel now but can cause tremendous pain in the future.
The Insurance Details
We don't want you to have to think about anything except getting better. We'll work with your auto insurance or the insurance of the party at fault, depending on the case. We bill the auto insurance or your medical insurance as appropriate. Our team members will help you sort out the best course of action to make your care affordable.
We offer same-day visits. Don't delay getting out of pain. Contact Chiropractic Fitness today to schedule your appointment for auto accidents South Charlotte!
CONTACT US »

Auto Injury Chiropractor South Charlotte, Pineville NC – 28226 | (704) 543-7206